Offering a fishing guide service that specializing in bass fishing on New Melones Reservoir and surrounding Mother Lode Lakes
Xperience Fishing not only offers a Guide Service, we also have anglers who share their passion and knowledge of fishing as well.

BOOK A TRIP TODAY: (209)743-9932
New Melones Bass Fishing Video
Bass Fishing Melones Madness Swimbait Edition
Wrath of the Whopper Plopper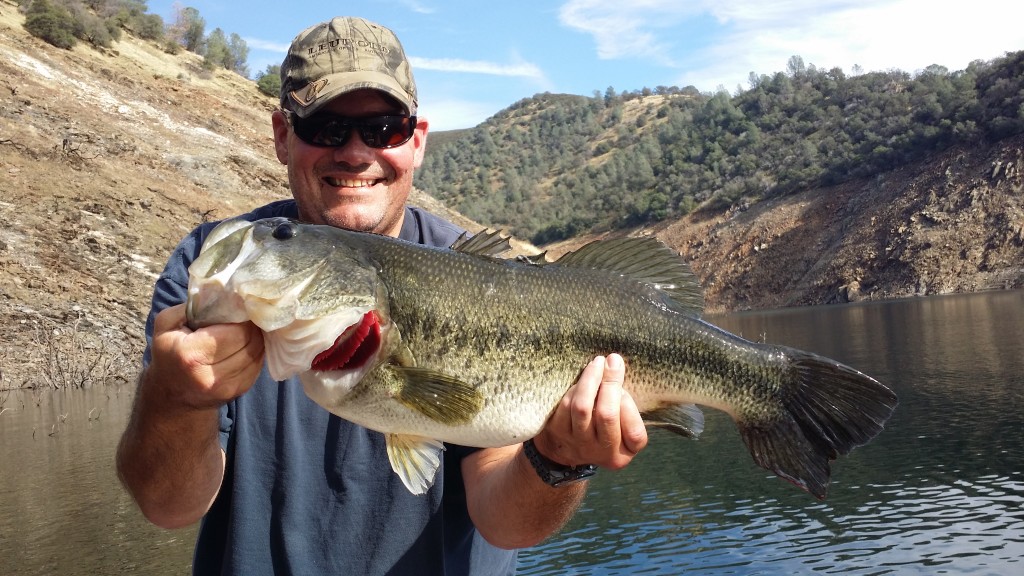 GUIDE SERVICE PRODUCES GIANT BASS CHECK OUT DAVE'S 9-POUNDER!
"I've been a Bassaholic for 30 years and decided to give big bait (swimbait) fishing a try in February. I struggled for many days throwing the big baits...wondering what I was doing wrong. I ran into John and shared my frustrations with him...he smiled and explained big bait fishing is an art. After hearing John explain just a few theories in a short time I knew I had to learn more and booked a trip. Best decision ever!! What an epic day we had. My goal of the trip was to LEARN...sticking the fish of a lifetime was not on my mind. John explained bass behavior and swimbait concepts the entire day and boy did he put me on the fish (I knew that big bait fishing wasn't a numbers game...a no bite or one bite day is very possible.) However, I quickly realized how far off I was with my swimbait technique and approach. John was patient, fun and willing to answer all of my big bass behavior questions. He explained every approach and technique we applied. And then....it happened...my personal best GIANT largemouth ate my swimbait (right in front of my face and only due to the set up and approach John showed me.) What a day and what a moment!! I immediately realized I would have never caught that fish how I had been fishing swimbaits...heck, I wouldn't have been remotely close. I learned so much with John and had a blast doing so. If you're interested in swimbaits, targeting big bass or just fine tuning your current fishing skills John is the man. My only regret is not booking a trip with him earlier in my swimbait fishing journey!"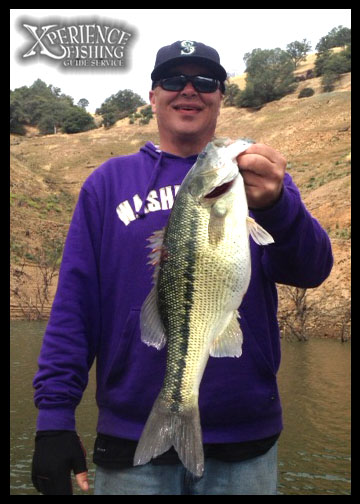 NEW MELONES FISHING REPORT INCLUDING A BEAUTIFUL 6-POUND SPOTTED BASS!
May 23, 2015 The spotted bass are really biting and we have been catching a bunch on each outing. Each morning we have been able to find some eager feeding topwater fish. Some mornings we get just a few blow-ups and other mornings it's a wide open bite. Poppers and walk-the-dog baits will work in shad, bluegill and baby bass colors. Once the sun comes up we have been switching to soft plastic presentations and catching fish all day long. The cloudy days have been producing some of our biggest catches. On Friday 22nd I spent the morning fishing with Rob Betsch. We concentrated our efforts on quality over quantity and it paid off. Our second stop Rob hooked and landed a very respectable largemouth. We photographed, released the fish and continued lunker hunting. We made a few stops and caught nice fish along the way. Fishing for bigger fish is a low percentage style of fishing and it can take thousands of casts with over sized baits to even to get one bite. When you do get bit it is worth all the time you've invested. Rob Betch caught his personal best spotted bass weighing 6-pounds. This is a World Class fish and one to be proud of. It turned out to be an awesome day to Xperience fishing.
FISH OF A LIFETIME!
02/13/2016 On Saturday February 13th, 2016 we hit the water with one goal in mind. That goal was to learn how to find and catch trophy sized fish. Peter Haskin of Escalon has fished for bass for most of his life. Catching a double-digit fish was a dream, and at 8:56am in the morning his dream came true. We started the day tossing over-sized baits that would appeal to only the largest fish in the lake. We made a couple stops and had a bit of activity. Our hopes were high and the fish seemed to be responding well to our approach. As we drifted quietly to our next spot, neither one of us knew exactly what was about to take place. The first cast Peter made he hooked a nice one. It put a bend in the rod, came unbuttoned and left us with a just swirl on the surface. Knowing we would have very few opportunities we were slightly disappointed. That feeling didn't last long. Two casts later, I looked off in the distance and noticed a huge shadow. The moment I realized it was a fish and was tracking our lure, it hit! Peter swung and hooked into an absolute giant. The fish buried down and refused to come up. Peter kept constant pressure and worked the fish right into the net. We did it! That is a fish of a lifetime! We carefully placed her in the livewell and gathered our composure. After weighing her at 11.02-pounds and taking a few photos we released her back into the lake. It was great day on the water and an amazing fishing Xperience.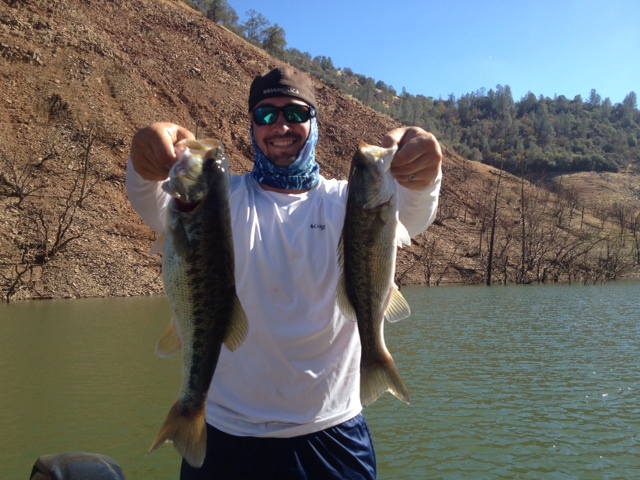 GOLD COUNTRY LAKE IS ON FIRE WITH A 100 FISH DAY!
On Monday October 19, 2015 I had the pleasure of doing a half day guide trip with my good friend Nate Monroe. Our goal for the day was to catch suspended fish. With this in mind we had multiple rods rigged with soft plastics and reaction baits that are ideal for fishing the middle water column. We fished the main lake in the morning and headed upriver throughout the day. We caught fish at every stop we made and a few places were loaded with fish and bait. The fish would spit small shad all over the surface as we fought them to the boat. It was a crazy action packed day! We had multiple double hook-ups on some chunky spotted bass. Nate landed biggest fish of the day, a fat spotted bass that was close to 4-pounds. The fish smoked a small swimbait over deep water. We had a feeling we would catch a bunch of fish so, first thing in the morning we started keeping track. We ended up catching 100-fish! That is not an estimate or approximately, that's 100 in hand, landed and counted. One of my personal best days, and Nate is probably still smiling.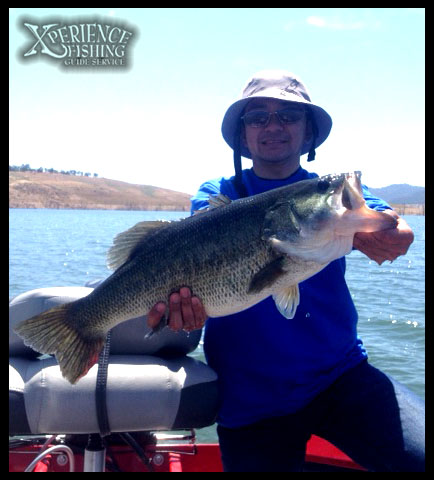 NEW MELONES FISHING GUIDE SERVICE WITH AN 8-POUND LARGEMOUTH!
May 11, 2015 The last couple of weeks the bass have been biting, and we have caught and released a handful of good ones. The springtime spawn is pretty much over and the fish are in a post-spawn stage. This is a fun time of year because the fish are usually active and willing to bite reaction baits. Many fish can be caught on chuck and wind type baits, spinnerbaits, chatterbaits, crankbaits and swimbaits are all good choices. These baits work well to locate an area that is holding fish. Once you find a productive section of water you can slow down and pick it apart with slower moving, soft plastic baits. For those who don't mind waking up early, there is a short window of opportunity to get a few topwater bites. This last week I took out Jin Hayashihara one of Melanie's friends from Japan. Each year Jin comes out to visit the Lewis's and gets to spend a day on the lake fishing. He has caught better than average fish each trip, each year. This year he landed his personal best, a giant 8.02-pound largemouth bass. This beautiful fish was caught on a green pumpkin Senko and put up an extremely exciting fight. Together we put over 40-fish in the boat, and the overall Xperience was one for the books.